The highly influential Pantone Color Institute has just revealed the 2021 Colour of the Year… 'Ultimate Gray' and 'Illuminating'. That's right two shades will be guiding the design trends of 2021.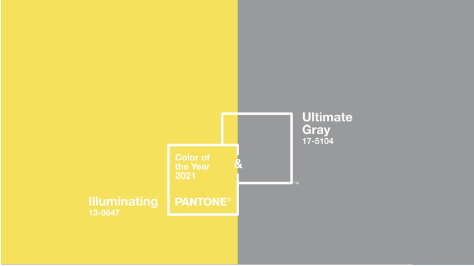 What does Ultimate Grey + Illuminating symbolise?
According to Leatrice Eisemen, Pantone's Executive Director, "The union of an enduring Ultimate Gray with the vibrant yellow Illuminating expresses a message of positivity supported by fortitude. Practical and rock solid but at the same time warming and optimistic, this is a colour combination that gives us resilience and hope. We need to feel encouraged and uplifted; this is essential to the human spirit".
Adobe describes Illuminating as a "bright and cheerful yellow that sparkles with vivacity. It's the warm shade of sunny days, bright flowers, and welcomed hope at the start of something new — a new chapter, a new year, or a new outlook".
While Ultimate Gray is described as "solid and dependable, builds a firm foundation of calm and security. It's the color of warm blankets, favorite sweaters, and natural elements whose weathered appearance highlights an ability to stand the test of time. Ultimate Gray quietly assures, encouraging feelings of composure, steadiness, and resilience".
How we expect to see these colours influence interior design
As always, the Pantone colour choice is set to have a massive influence on home and interior design (as well as other industries such as fashion, architecture, travel, art).
Some of the trends that you will see appear in homes throughout the year are:
Raw gray concrete tabletops and benches especially in the kitchen and bathroom
Pops of illuminating yellow in furnishings and decor pieces
Bright yellow statement features like front doors and kitchen splashbacks