Our client, Tanja's Café & Restaurant, runs an established café and a successful pastry business that supplies to the supermarkets throughout Australia and they wanted to expand with a "Croissanterie" (upmarket takeaway pastry café). Tanja's Café recently celebrated their 50th year of trading since it's origin as the Wellington Point Bakery, and as one of the first cafes permitted to have outdoor dining in Brisbane, Tanja's has since become something of a local institution, with its many customers featuring locals / regulars as well as city daytripppers who are exploring the natural beauty of Wellington Point and the Redland Shire.
When an ice creamery located beside the Tanja's Café closed-for-business, Granny and Co Homes were approached and asked to develop a concept for a modern, upmarket takeaway solution that would complement and enhance the established cafe. The challenge was to marry something new and vibrant with an older, quaint establishment. Working in collaboration with Metamorphouse Architects, the result from Granny and Co Homes is a modern-industrial design that focuses on a clever use of geometry, texture and light, balanced with a timber aesthetic that can be seen throughout with Spotted Gum detailing (we insisted on using a Queensland timber species).
The front servery is a hand-crafted piece that adds "wow-factor" to the design, it was made by an artisan who personally selected individual lengths of Spotted Gum timber to laminate the benchtop into one piece and then used flame to weather the surface before applying several food-grade protective coatings. The curved Perspex hood is unique and was also hand-formed by local experts who were up for the challenge of creating a spherical curve. The counter and its hood were carefully shaped so as to draw customers into Tanja's Café instead of simply gathering outside. Abovehead are a series of ceiling fins that direct the eye from the front counter towards the main feature of the café, the proofers and oven that are responsible for baking the delicious pastries. The wall behind the proofers is lined with small hand-cut ceramic tiles that catch the light to provide a more interesting backdrop for the equipment, without dominating the space.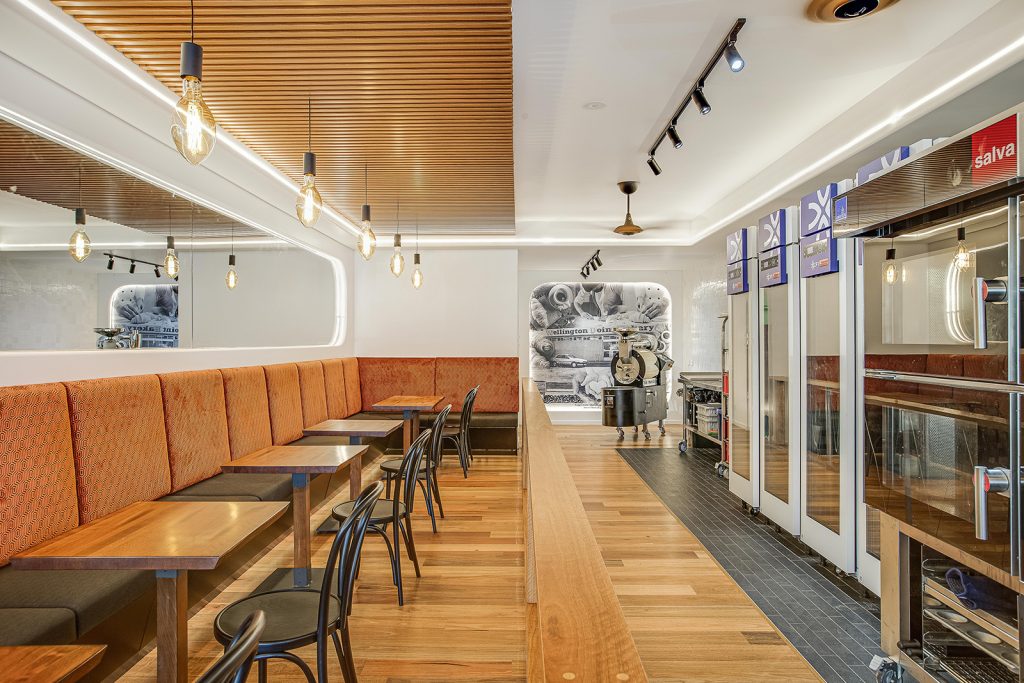 Between the new and old cafes is a dividing wall that houses a 7m+ long smoked glass wall mirror, recessed into a curved wall niche, giving the café a feeling of light and spaciousness and a futuristic feel that's highlighted by surprisingly subtle recessed LED strip lights that adorn the interior, and with the large teardrop-shaped filament bulbs above each table, the space truly comes alive in the evening. The great attention to detail from Granny and Co Homes can't be ignored, with bullnosed and curved corners on the walls, ceilings and bulkheads that soften things to create an inviting "please touch me" kind-of feel. The velvet bench seats and industrial tables enhance the textural feel and feature even more geometric detailing that somehow fits-in with the overall scheme without looking too busy.
The initial feedback from Tanja's Café and customers has been extremely positive. The Croissanterie is an outstanding addition to Brisbane's vibrant café scene and an iconic space that will maintain interest and value-add to the business. Granny and Co Homes, working in partnership with Metamorphouse Architects, is proud to feature it.